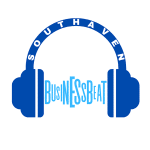 Southaven Business Beat – Episode 7
Host: Robby Yates
Guest: Robb Smith & Jesaiah Burnett
Description:
Join us for an exciting podcast interview with two remarkable individuals, Robb Smith and Jesaiah Burnett, who take us behind the scenes of the upcoming Desoto Film Festival. The DeSoto Film Festival, in collaboration with the Southaven Chamber of Commerce, is opening doors for young, aspiring filmmakers to embark on an exhilarating storytelling journey through the captivating medium of film.
At the heart of this festival lies the DeSoto Arts Institute, a hub of education and support programs designed to nurture the talents of emerging filmmakers. Robb Smith and Jesaiah Burnett will share insights into the institute's mission and vision, offering a glimpse into the remarkable Film School 101 program. This innovative initiative equips participants with the essential skillsets required for the art of movie production, ensuring they are well-prepared for the cinematic world.
The DeSoto Film Festival, a pivotal part of this exciting event, serves as a platform to showcase the exceptional talents of new student filmmakers. More than just a screening, it offers invaluable lessons in collaboration and embraces cutting-edge technology to streamline the filmmaking process. Through this podcast interview, you'll gain an inside perspective on how this festival fosters creativity, nurtures emerging talents, and encourages budding filmmakers to explore the limitless possibilities of technology in their craft.
The conversation with Robb Smith and Jesaiah Burnett will reveal how this comprehensive experience shapes young individuals' future, helping them find their place within the film industry and building lasting relationships that will continue to inspire and support their cinematic aspirations. Tune in to discover the exciting world of filmmaking and the opportunities that the Desoto Film Festival offers to independent talents seeking to make their mark in this dynamic industry.
LONG SUMMARY
The DeSoto Film Festival and Southaven Chamber of Commerce both provide excellent opportunities for aspiring filmmakers to get involved in the local film industry. The DeSoto Film Festival is held on November 2-4, 2023, and is the third annual event. The festival offers an entertaining viewing experience and is pro-faith, although not faith-based. The DeSoto Arts Institute also provides education and support through its Film School 101 program. Through this program, students can learn cinematography fundamentals to editing and gain hands-on experience. The Mid-South Film School is a year-long program that provides students with useful industry skills. The Southaven Film Festival also allows filmmakers to create and show short films, such as live-action, animation, and family-friendly films. It is essential to build local film communities to maximize potential collaborations. The resources provided by the DeSoto Film Festival and Mid-South Film School allow young people to learn the necessary tools to create successful films, foster meaningful relationships and show them the importance of a good work ethic.
KEY TAKEAWAYS
The DeSoto Film Festival is 3rd annual event that provides an entertaining viewing experience.
The DeSoto Arts Institute offers quality courses and workshops for aspiring filmmakers.
The Mid-South Film School is a year-long program for aspiring filmmakers.
DESCRIPTION:
CHAPTERS
Welcome to Southaven Business Beats: Exploring Mississippi Business From Leaders (00:00 – 05:00)
Introducing Students To The Professional Environment of Film: An Overview of A Year-Round Filmmaking Program and Film Festival (05:00 – 09:43)
Crash Course in Filmmaking: A Hands-On Adventure in the Mid-South (09:44 – 14:40)
Discovering Your Superpower: Behind the Scenes of a Film Set (14:40 – 19:36)
Unveiling Filmmaking Opportunities to Desota County: Discovering Talents' Superpowers. (19:37 – 24:30)
Creating a Strong Work Ethic and Community with DeSoto Film Festival (24:30 – 28:19)
SPONSOR LINKS:
https://www.wisdomintegrators.com – Wisdom Integrators
https://thefollowapp.co/ – The Follow App
https://www.purefocus.media/ – Pure Focus Media
https://www.southavenchamber.com/ – Southaven Chamber of Commerce